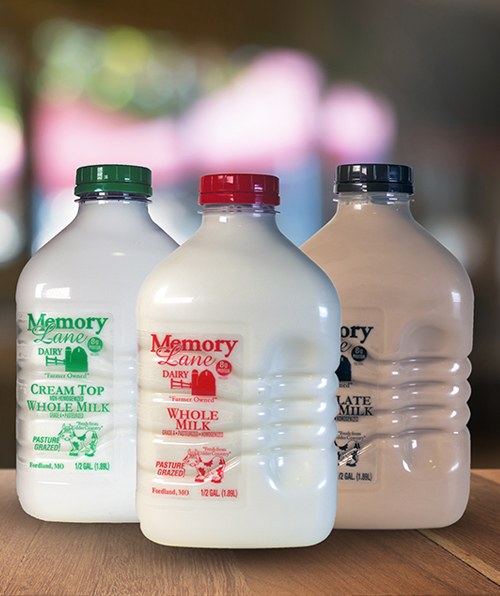 Memory Lane Dairy milk comes from healthy local dairy cows. It is then pasteurized, which is a quick heating and cooling process, and packaged in vintage style bottles. We take every care to preserve the wholesome, healthy ingredients in every drop of our milk.
As a division of Hiland Dairy, we distribute three lines of local, fresh, family-farmed milk products to leading grocery stores throughout southwest Missouri.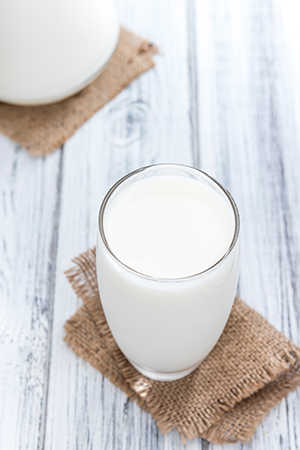 Cream Line Milk
Cream line milk is whole milk in its natural state. Memory Lane milk in these green-capped containers has a naturally occurring cream line at the top of the milk. Simply shake the bottle to mix the cream throughout the milk and enjoy.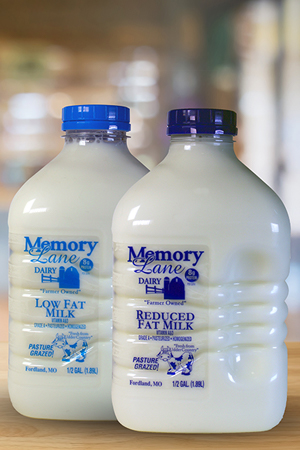 Homogenized Whole, Reduced-Fat and Low-Fat Milk
Memory Lane produces three lines of homogenized milk. Our whole, reduced-fat (2%) and low-fat (1%) homogenized milk are convenient and easy to drink.
Homogenized whole milk is identified with red caps; reduced-fat with blue caps; and low-fat with gray caps.
Rather than using reconstituted low-fat milk, our 1% milk is made naturally by separating the cream from the milk. Healthy nonfat solids remain in the milk, giving it a naturally white appearance and fresh taste.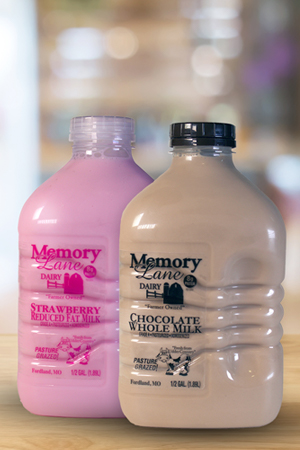 Flavored Milk
When it's time for a treat, Memory Lane Dairy aims to please! We make delicious-tasting and fresh flavored milk in the following varieties:
Chocolate
Strawberry
Orange Dream
Root Beer
Cotton Candy
Eggnog
Mocha
Additional seasonal flavors
If you're looking for a delicious new way to enjoy all the vitamins and nutrients milk has to offer, try our delicious Strawberry Reduced Fat Milk! It's rich, creamy and unmistakably berry-licious!