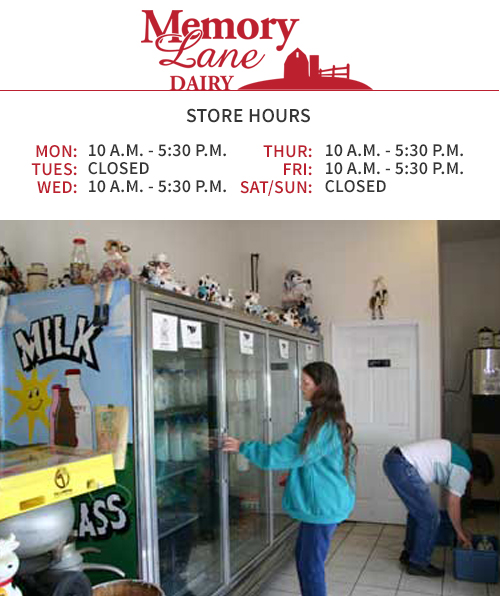 Memory Lane Dairy began in 1977 with 20 cows and a vision for high-quality, fresh, all-natural milk. Today, all milk bottled by Memory Lane Dairy comes from local family farms within 50 miles of the Fordland production facility. As a division of Hiland Dairy, distribution of our artificial-hormone-free and antibiotic-free milk allows Memory Lane Dairy to distribute its great-tasting milk to families throughout Missouri
Memory Lane Dairy values our customers, and we want to say thank you for choosing our products over and over again. You can visit our store on Monday, Wednesday, Thursday and Friday, from 10 a.m. to 5:30 p.m., at 42 Rose Petal Lane just east of Fordland, Missouri, at Highway 60 and Junction Z.
In addition to our fresh and delicious milk in vintage style bottles, we sell other products from Hiland Dairy. From tasty dips and fresh cottage cheese to creamy butter and cheese, Hiland Dairy has something for every family's table. It's goodness you can see and taste in every bite. Just like Memory Lane, you can count on Hiland for the freshest, best-tasting products around.
Need gift ideas? We have those hard-to-find gifts for the cow lover in your family! From T-shirts to home decor, count on the Memory Lane Dairy store for those unique gift ideas for the whole family!